Frittata is een typisch gerecht uit de 'cucina povera', ofwel een maaltijd dat uit armoede is ontstaan. Het is ideaal om kliekjes in te verwerken, zoals een restje groente of pasta, het kan allemaal. In dit recept heb ik vooral voedingsmiddelen uit de 'voorraadkast' gebruikt. Een potje artisjokken, olijven en asperges uit de diepvries. Snijd de frittata in puntjes en serveer het op een borrelplank of eet als lunch!
#voedingsweetje
Wist je dat groente uit de diepvries minimaal even veel vitamines en mineralen bevatten dan verse groente uit de supermarkt? Dit zit zo: direct na het oogsten begint er een verlies aan voedingsstoffen te ontstaan. Groente die in de diepvries verkocht worden, zijn snel na het oogsten ingevroren. Eenmaal ingevroren blijven de voedingsstoffen die ze dan bevatten nagenoeg intact. Groente die 'vers' worden verkocht, maken eerst nog een lange reis voor ze in de schappen liggen. Koop je groente daarom zo vers mogelijk en bewaar het niet te lang. Diepvriesgroenten zijn een gezond alternatief!
Ingrediënten
voor 4 personen
4 eieren
125 gram groene asperges (diepvries)
5 'partjes' artisjok (uit pot)
Een paar lekkere zwarte olijven (bv. kalamata)
½ ui
extra vergine olijfolie
zout
peper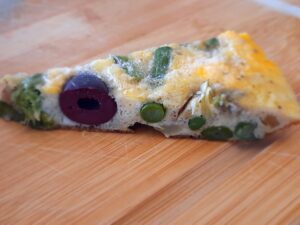 Laat de asperges ontdooien
Snij de ui in halve ringen
Schenk een beetje olijfolie in een kleine koekenpan en smoor de ui op een laag vuurtje tot deze zacht is.
Snijd de artisjok in iets kleinere stukjes
Klop de eieren los in een kom en breng op smaak met zout en peper.
Voeg de asperges, olijven en artisjokken toe aan het ei en giet het geheel in het pannetje waarin je de ui hebt gesmoord.
Bak de frittata op een zacht vuurtje in zo'n 10 minuten gaar.
Tip: als de bovenkant nog niet goed gestold is, leg dan een groot bord op de pan en draai de frittata om. Laat het op de andere zijde nog even gaar worden.
Ben je benieuwd naar de andere recepten die op de borrelplank te zien zijn? Check deze link voor het recept 'crostini met tuinbonenpesto' en deze link voor deze supermakkelijk te maken (en heel lekkere) 'mozzarella met ham en pistachenootjes'!