Paprika is een populaire groente en dat zal niet alleen bij ons thuis zo zijn! De kids vinden rauwe paprika heerlijk en we verwerken het graag in allerlei gerechten. De rode paprika's zijn zoeter van smaak dan de gele en de groene. In dit recept kun je natuurlijk kiezen voor alleen rode paprika's maar natuurlijk ook voor een mix van kleuren waardoor je een kleurrijk geheel krijgt.
#voedingsweetje
#voedingsweetje paprika Paprika komt uit de landen rond de Middellandse Zee en van maart tot september uit Nederlandse kassen. De groente bevat veel vezels en voedingsstoffen. Vooral rode paprika bevat veel vitamine C (tot tweemaal zoveel als groene paprika, sinaasappel of kiwi!).   
Ingrediënten
voor 4 personen
6 (punt)paprika's

2 tenen knoflook, grofgehakt
oregano of peterselie
3 el extra vergine olijfolie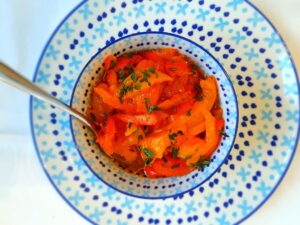 Leg de paprika's in een ovenschaal (of op een rooster) en rooster ze in een oven op 200° C in ongeveer 30-40 minuten gaar. Keer halverwege om. Het is niet erg als het vel zwart kleurt.
Stop de paprika's in een plastic zak en laat ze daarin afkoelen (dit zodat het velletje straks gemakkelijk loslaat). Verwijder vervolgens het vel, de steel, zaadlijsten en zaadjes. Snijd (of scheur gewoon met je vingers) de paprika's in reepjes.
Leg de paprika in een schaal, voeg er de knoflook, olijfolie en kruiden toe en meng door elkaar.
Laat nu minimaal een paar uur trekken zodat de smaken zich goed kunnen mengen.