Natuurlijk is een linzen-spinaziesoep heerlijk om je aan op te warmen tijdens een koude winterse avond, maar wat mij betreft is het een gerecht om het gehele jaar door van te genieten. Met een paar simpele ingrediënten zet je een lekker en authentiek gerecht op tafel. Waar de komijn de linzen-spinaziesoep een Oosters tintje geeft, geeft een schep Griekse of Turkse yoghurt hem een heerlijk friszure smaak.
#voedingsweetje
Linzen behoren tot de peulvruchten, een belangrijke voedingsgroep in het mediterrane dieet. Linzen zijn een goede bron van plantaardige eiwitten. Daarnaast zijn vitamines, mineralen en vezels zijn ruimschoots aanwezig. Zo bevatten linzen goede hoeveelheden vitamine B1 en vitamine B6, allebei belangrijke vitamines voor je energiestofwisseling. Daarnaast zijn de mineralen fosfor, ijzer, kalium, koper, magnesium, seleen en zink allemaal in linzen te vinden. Deze mineralen hebben veel verschillende belangrijke functies in je lichaam. Zo draagt ijzer bij aan het normale transport van zuurstof door je lichaam en helpt magnesium je botten en spieren sterk te houden.
Ingrediënten
voor 4 personen
1 el olijfolie
½ ui, fijngesnipperd
1 teentje knoflook, uitgeperst
200 gram bruine of groene linzen (gedroogd)
1 blik tomaten (425 gram)
500 ml groentebouillon
250 ml water
1 tl komijn
100 gram babyspinazie, grof gehakt
zout en (chili)peper naar smaak
4 el Griekse / Turkse yoghurt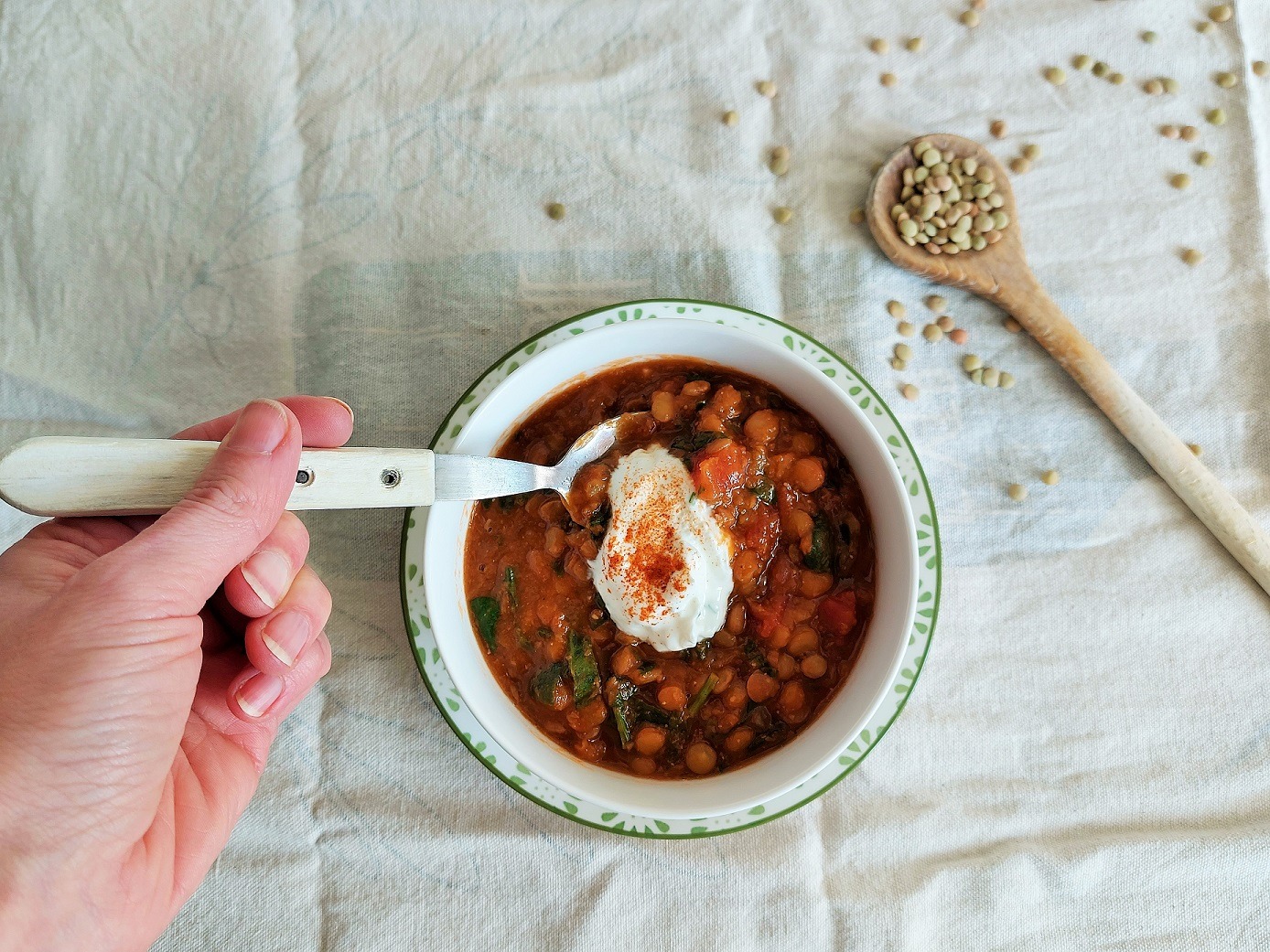 1. Verwarm de olijfolie en fruit het uitje. Voeg na een paar minuten de knoflook toe (ik voeg dit wat later toe, anders heb je kans dat je knoflook verbrand).
2. Spoel de linzen af in een vergiet en voeg deze toe aan de ui en de knoflook. Voeg de tomaten toe, een theelepel komijn, wat zwarte peper en giet zodra alles verwarmd is de bouillon erbij. Het extra water kun je nu in een keer toevoegen, of steeds beetje voor beter om zelf de dikte van de soep te bepalen.
 3. Laat op een zacht vuur pruttelen. De linzen zijn gaar in ongeveer 30 minuten (dit staat op de verpakking).
4. Voeg vijf minuten voor tijd de spinazie toe. Proef en breng eventueel verder op smaak met (chili)peper en zout.
5. Schep in soepkommen en schep overal een lepel yoghurt in.