Watermeloensalade stond al heel lang op mijn 'verlanglijstje' om te maken, vooral omdat ik erg nieuwsgierig was naar de combinatie van alle smaken: zoete meloen, zoutige feta, frisse munt en mild-scherpe bosui. Deze salade is heerlijk verfrissend en de smaak zal je aangenaam verrassen! Ben je geen enorme fruit-eter, dan is een salade waarin fruit is verwerkt ideaal om wat extra fruit op een dag binnen te krijgen. Ik voegde ook nog wat kalamata-olijven toe die ik toch nog had liggen. Lekker, maar ook zonder is deze salade compleet!
#voedingsweetje
Wist je dat de meloen familie is van de komkommer? Ondanks dat watermeloen uit maar liefst 95% uit water bestaat, bevat het verrassend veel voedingsstoffen. Het is onder andere rijk aan ijzer, kalium, vitamine C, bètacaroteen en lycopeen. Mensen die een hoge bloeddruk hebben, hebben profijt bij het eten van watermeloen. Kalium heeft namelijk een bloeddrukverlagend effect. Bètacaroteen is een antioxidant: deze beschermt de lichaamscellen tegen schadelijke invloeden. Bovendien wordt bètacaroteen omgezet in vitamine A: goed voor je huid, haar en ogen! Ook zit watermeloen zit vol met lycopeen. Dit is een zeer krachtige antioxidant die helpt beschermen tegen kanker en hart- en vaatziekten. Goed om te weten: lycopeen wordt het best opgenomen in het lichaam tijdens of na een vettere maaltijd, bijvoorbeeld met olijfolie of feta. Deze salade is daarom ideaal!
Ingrediënten
voor 2-4 personen (lunch- of bijgerecht)
500 gram watermeloen, ik blokjes
½ komkommer
1 bosui
1 takje munt
100 gram feta
kalamata-olijven (optioneel)
extra vergine olijfolie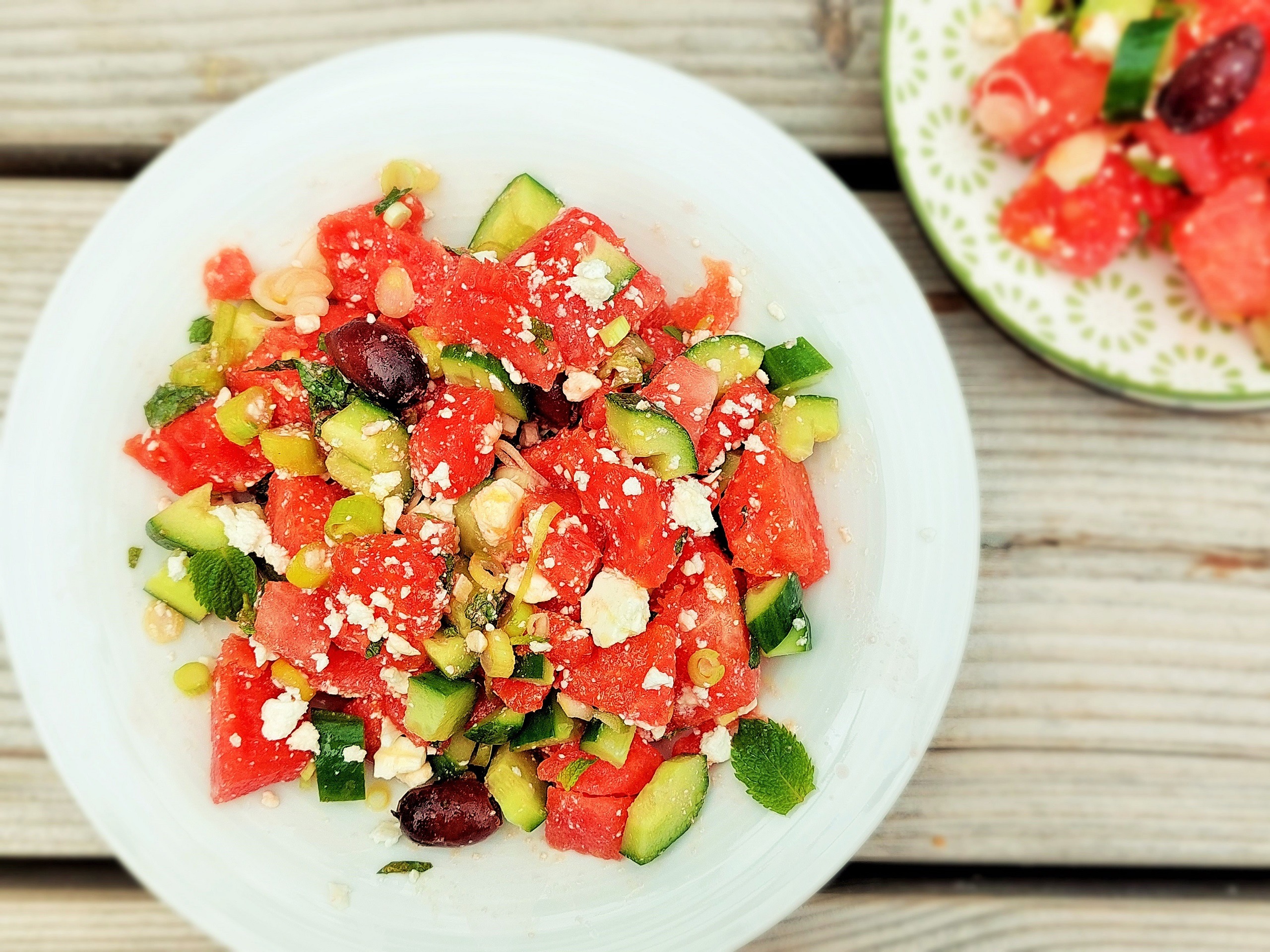 Doe de in blokjes gesneden watermeloen in een ruime kom.
Snijd de halve komkommer in de lengte doormidden, schraap de zaadlijsten eruit en snijd in kleine blokjes.
Snijd de bosui in kleine ringetjes.
Haal de blaadjes munt van het takje en snijd in kleine reepjes.
Meng de gesneden ingrediënten door elkaar.
Voeg de olijven toe en verpulver de feta erover.
Maak af met een straaltje extra vergine olijfolie.