Een hele kip braden is heerlijk, maar op een doordeweeks dag maak je liever iets wat sneller klaar is. Kies bijvoorbeeld voor kippendijtjes en kippenvleugel, want die hebben een relatief korte garing nodig. De dijtjes zijn heerlijk mals en de vleugeltjes zijn lekker om te kluiven. Combineer de kip met rozemarijn, knoflook en een scheutje wijn; simpel en super smaakvol! Als je liever geen wijn gebruikt, neem dan een klein scheutje witte of rode wijn azijn. Combineer de kip met bijvoorbeeld een groene salade en rustiek brood of met deze heerlijke pastasalade.
Ingrediënten
voor 4 personen
300 gram kippendijtjes
300 gram kippenvleugels
zout en peper
6 el olijfolie
1 ui, gesnipperd
1 glas witte wijn (of 1 el azijn)
2 knoflooktenen, uitgeperst
2 takjes rozemarijn, naaldjes fijngehakt
2 el balsamicoazijn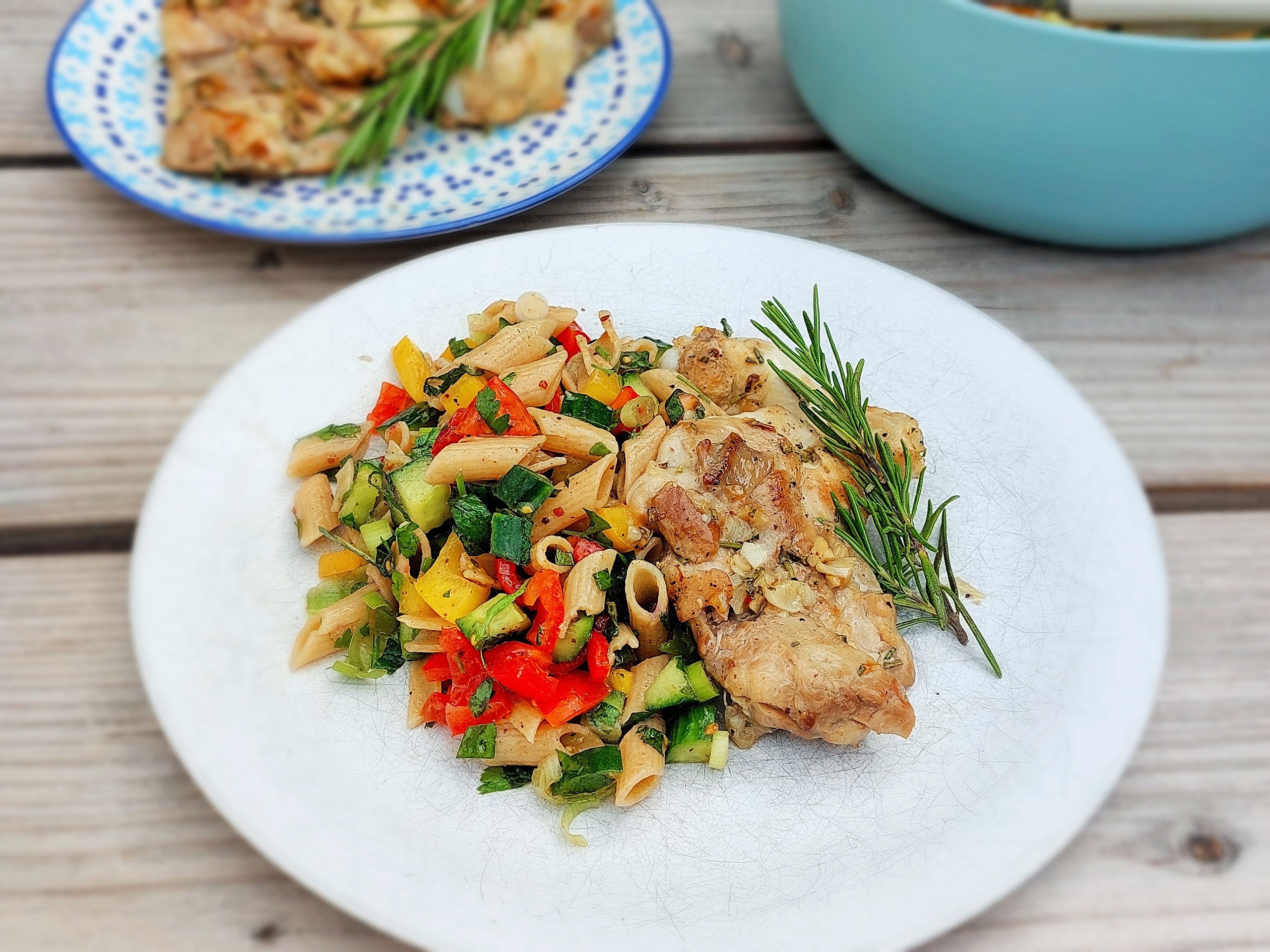 1. Dep de kippendijtjes en – vleugels droog met keukenpapier. Wrijf in met zout en peper.
2. Verwarm 6 el olijfolie in een pan en bak de kip rondom lichtbruin.
3. Haal de kip uit de pan en smoor de ui tot deze licht kleurt.
4. Voeg dan de kip weer toe en blus af met de wijn. Laat in 20 minuten gaar worden op een zacht vuurtje.
Tip: als het vocht te snel indampt, voeg dan een scheutje water toe.
5. Voeg 5 minuten voor tijd de uitgeperste teentjes knoflook toe en de fijngehakte rozemarijn.
6. Druppel er op het laatst de balsamicoazijn overheen.